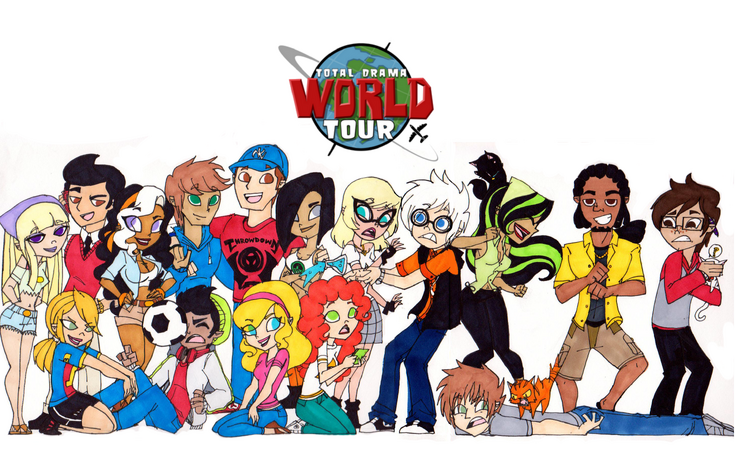 About Total Drama World Tour WikiEdit
Total Drama World Tour is a fanfic written by ferguson97, that was first published on fanfiction.net on April 18, 2013.  The story is an animated parody of various reality television and game shows, such as Survivor and The Amazing Race.  The fictional show is hosted by Chris McLean, and follows a cast of sixteen competitors as they emback on a wild journey around the globe.  In typical game show fashion, the competitors are split into various teams, and forced to compete in a series of bizarre challenges, all in the hopes of winning the million dollar prize at the end of the season.
This story is a retelling of Total Drama's of third season.  The cast of the the first two seasons is replaced by a new slew of contestants.
Twenty-Four chapters have been published as of August 23, 2013 covering eighteen episodes.  Thirteen of the sixteen competitors have been eliminated, but one has returned...and been sent home again, hence fourteen eliminations but only 13 campers voted off! The eliminated competitors being Xena, Lucian, Jerome, Shaylie, Aidan, Holly, Deylanie, Georgie, Xavier, Walter, Aria, Viktoriya, Lucian again, and Zane. The Remaining campers are Daniel, Emma, and Jamie.
Featured Article
Edit
Greece's Pieces is the fourteenth episode of Total Drama World Tour.
The episode takes place in Athens, Greece, but due to misinformation, Chris thought the original Olympics took place in Rome, Italy, but learns he was mistaken. A couple forms, and another couple is extrapalated on. The challenge is for people to take place in three 'original' Olympic events. When each team wins one a challenger, a tie-breaker is called. Due to one contestant's strategical insight, one team shockingly loses, though no one important gets voted out.
This Week's Loser (SPOILERS!!!)Edit
Zane became this week's loser after Emma played him hard, using his newfound actual friendship with Jamie to give him the boot.
Featured Polls
Edit
 

 

Zane has finally left us and now we are at the finals. How do you feel about the strategist's elimination?

 




 

 

What do you think of the Total Drama World Tour Wiki?

 
The Final Four has become the final three! Who do you want to lose?
Two locations, what are yo uexcited for?
Latest activity
Edit